For many travellers, Peru's Sacred Valley is synonymous with Machu Picchu. This ancient Incan cital sits 2,430 m above sea level. It is undoubtedly one of the most famous heritage sites in the world. But, there's more to see in this stunning area than just Machu Picchu and a lot that's family-friendly. With private tours at affordable prices and activities suitable for all ages, you can easily spend a few weeks soaking up the magic of the Sacred Valley.
Cusco
Cusco is the main entry point for travellers looking to explore the Sacred Valley and is not only a great base but a stunning city in its own right. Cusco was once the capital of the Incan empire and offers visitors a unique mix of archaeological remains dating back to Incan times, combined with beautiful Spanish colonial architecture. The main area of the old city is Plaza de Armas, a beautiful green space with colourful flowers, bench seats and a fountain. The plaza is surrounded by carved wooden balconies and Incan wall ruins. You can easily spend a few hours on a terrace sipping coffee and watching people come and go, touting tours, selling artwork and posing for pictures in traditional Andean clothing. Just remember to pack some books or colouring to keep the kids busy!
Exploring Cusco by foot is your best bet (don't bother with a stroller, the uneven stones are beautiful but impossible to navigate if pushing a pram). You'll need to allow yourself a few days to adjust to the high altitude. If you're travelling with kids, try not to do too much too quickly. All three of my kids suffered from altitude sickness, including headaches, fatigue and nausea. Instead, take the time to relax and ease into this gorgeous area, wander slowly and check out some of the fantastic food options Cusco has to offer.
When you're feeling up to it, head to Cristo Blanco, a giant statue of Jesus Christ that sits atop a hill overlooking the entire city. While it's possible to walk up, we opted for a taxi to save our legs for the trip back down. The view offers a great perspective of Cusco and its stunning architecture. It's easy enough to walk back to town with little ones, although the trail is a little steep to begin with, until you reach proper steps. Following the path leads you to the San Blas neighbourhood, a famous artisan area with narrow streets jam-packed with souvenir shops and cafes offering incredible views. If you're lucky, you'll stumble upon a souvenir shop where the owner will dress you up in traditional Andean clothing and delight in taking photos of you all!
Another family-friendly option is ChocoMuseum. We booked a mini chocolate workshop where we received a short history lesson on Peruvian chocolate before getting straight into making our own chocolate combinations. The kids loved choosing their moulds from a wide selection and with 15 different topping combinations available there was something to suit everyone's tastes.
Pisac
Located about an hour's drive from Cusco, Pisac is famous for its craft market held in the main square every day from 9 am to 4.30 pm. If you're after an authentic market experience, try to visit on a Sunday when the local Quechua communities set up their stalls. You'll find a wide range of handmade crafts and traditional Andean clothing. We purchased some colourful alpaca wool beanies and jackets for the kids that are super soft, don't itch and kept the kids warm.
The famous Pisac Archaeological Park is a hilltop Incan citadel with ancient temples and plazas. To reach the park, follow the signs from the main square. It takes about 1 ½ hours, which can be a bit much for little ones, so you can also catch public transport. The views from the top are worth the effort and span across the Quitamayo gorge.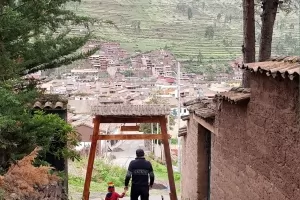 You can easily visit Pisac in a day, given its close proximity to Cusco, or take a few days to explore the ruins. It's a beautiful little town with small narrow streets and plenty of cafes and souvenir shops to keep you entertained.
Ollataytambo
By far my favourite spot in the Sacred Valley, this stunning town is literally dwarfed by the Andean mountains surrounding it in every direction. It offers a plethora of ancient ruins for you to explore, great craft markets right at the base of the well-preserved Ollantaytambo ruins and lots of easy hiking options for families. The main square is quaint and surrounded by restaurants and cafes, each with balconies and views of the surrounding mountains. The town features cobblestone streets and canals that were originally designed to bring water to the town from the nearby mountains. And they still run today!
While there are plenty of famous ruins to explore, we enjoyed lesser-known Centro Arqueológico Quellorakay. Well worth the easy 20-minute walk from town, you pass by farmland and feel completely detached from the main tourist area. The site allows you to get up close and personal to the ruins. When we visited we had the place to ourselves, meaning the kids could really enjoy exploring the ruins and playing hide and seek!
Ollantaytambo is only about 60km from Cusco, though the windy roads do make the trip feel longer. While it's definitely doable as a day trip, I'd recommend staying a few days to really explore all this town has to offer and enjoy the fresh mountain air.
Urubamba
Urubamba is a small town in the valley, sitting amongst the high Andean peaks. While it's a sleepy little town, there are some great activities to keep you busy, including the nearby Salt Maras, about a 20-minute drive. The salt miles are made up of hundreds of hillside pools that date back to Inca times. You can walk down to a few vantage points that offer amazing views of the salt wells, of which there's over 2,000. Created by water that's diverted from a natural salt spring, small puddles form which eventually evaporate to leave mounds of natural salt, known to be some of the tastiest salt in the world. In summer, the salt mines are regularly mined, which means they are pure white. If you visit in winter, expect the mines to be more of a muddy brown colour, which is still pretty spectacular.
Another great activity to enjoy with kids is horse riding! We visited a ranch owned by a lovely Canadian woman who lived on the ranch with her partner and young daughter. We spent a few hours on the ranch, where she explained how to interact safely with horses, groom them and build up trust with the horses before the kids had a chance to ride. My two-year-old son was the first one on the horse and held his hands out to develop balance while she led him around the field overlooked by massive mountains. The kids had a ball and the scenery was spectacular!
Like Pisac, Urubamba is only one hour from Cusco, so it can be easily visited in a day, or you can spend a few days here to relax. We pushed the budget out here and stayed in a luxury Airbnb that really made this place special. Offering a large garden with a swing for the kids, outdoor seating with hammocks and couches, a fireplace, and breakfast cooked every morning for our stay it was well worth blowing the budget!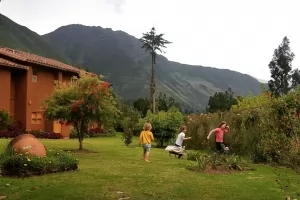 Getting around
We travelled by private car with a tour guide recommended by our Airbnb host in Cusco. This region is a tourist haven, so there are plenty of options for getting around at all price points. A private van was great for us, as it offered space and convenience for our family of five. Our driver knew all the best places to stop for photos, which gave us lots of time to stretch our legs and get some fresh air for the kids (well needed given the windy roads!), exploring various sights along the way.