There is an obvious cost advantage to doing a
Home Swap Exchange
when travelling. If cost and budget is not an issue however, then finding nice
vacation rentals
may be the quickest and easiest, free of worry, way to go. If you are looking for a prolonged stay away from home, then vacation rentals by owners can become quite expensive. Although there seem to be more efforts to make in order to find a good home exchange match, it can however become a very rewarding experience. Initial uncertainties, like destination choice, on location support and home caring arrangements tend to transform themselves into very positive experiences for home swappers.
(see comparison chart below)
Vacation Rentals vs Home Swapping Comparison Chart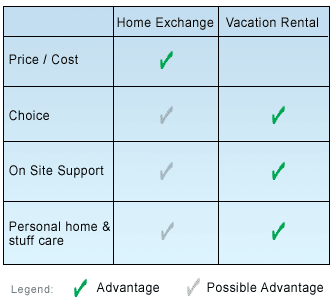 Tags: vacation rentals by owner, home swap exchange, vacation rentals.