As soon as the summer vacations begin in northern India, residents of the Delhi NCR region experience a collective itch to pack up and escape the bustle of their mundane city lives. In the nearby state of Uttarakhand, the hill station of Mussoorie is among the more preferred options that welcome the majority of this holiday rush.
Established by the Gorkhas in 1803, it was Captain Young of the British military who first saw the potential of this picturesque destination as a place for leisurely hunting expeditions. However, it wasn't until the end of the century that Mussoorie became a fully functioning town used by the British as a respite during the sultry summers.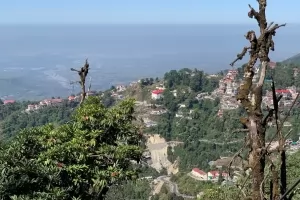 Over time, Mussoorie became famously known as "Queen of the Hills." But the sparkling jewel in its crown, at present, is Landour. About 7.5km east of Mussoorie, Landour is a paradisical retreat amidst the Lower Western Himalayas. The town's charm, though, lies in its old-world temperament, maintained due to lack of any commercial activity.
Moreover, the relatively petite size of Landour gives it a cozy feel, perfect for families or couples looking to spend quality time together. And it is also because of the region's quaintly amorous qualities, Landour continues to be a muse and home for many artists, including well-known authors like Ruskin Bond and Stephen Alter.
Our ultimate guide to Landour presents you with all the information required for planning an idyllic vacation at this naturally stunning hilly hideaway.
How To Reach Landour
The route to Landour is pretty straightforward. The road network that leads to Dehradun, the state's capital, is good, with significant improvements over the past decade. The journey up until Dehradun is flat. The road to Mussoorie and then Landour is not too steep. It's short and safe enough for tourists not used to driving in the mountains.
However, parking and narrow roads do regularly cause problems in the region. Traffic jams are common, and big cars can have difficulty maneuvering in the populated areas of the hills. Moreover, expect to pay anywhere from Rs 300 to Rs 500 per day for parking.
A better alternative is to take a train or flight to Dehradun. From there, taxis to Landour are readily available. There is no need for a car in Landour. However, you can ask your host to call a cab if you wish to visit Mussoorie for a day. It's a hassle-free option that also helps keep the environment pollution-free.
Where To Stay In Landour
The good and bad thing about Landour is that it has limited accommodations. Because it is a cantonment area, unlike Mussoorie, there are restrictions on constructing new buildings. As a result, the residences here are abodes built centuries ago, refurbished into cozy living spaces with modern facilities.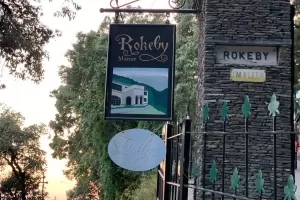 The most popular place to stay in Landour is Rokeby Manor. Housed in a 19th-century bungalow with décor from the same era, Rokeby provides a contemporary luxury hotel-like experience. With immaculate service making every stay a joy, it offers a combination of suites and rooms featuring quintessential mountain interiors such as wooden beams and stone walls.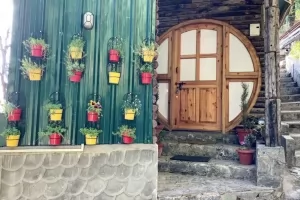 For a more homely place to stay in Landour, look into La Villa Bethany. An old English cottage converted into a charming bed and breakfast, Villa Bethany is a passion project of Amarjeet and Sunita Kudle. The atmosphere here is laid-back and intimate. Homecooked meals and spectacular views of Mussoorie and the Doon Valley further add to the magical charm of this hillside residence.
Domas Inn is a budget-friendly option to stay in Landour. It's located right at the bottom of the village, near the residence of author Ruskin Bond. Inspired by Tibetan art and culture, the Inn is a colorful and joyous accommodation with simple and relaxing rooms.
If traveling in a small group, one option to stay in Landour is to rent a cottage. There are three private bungalows available at different times of the year. Typically managed by the team of Rokeby Manor or La Villa Bethany, they provide a nice secluded respite to people who prefer a little privacy.
Best Places to Eat in Landour
For a tiny hill station, there are surprisingly plenty of places to eat in Landour. And that is not considering cafes and restaurants in Mussoorie that are a short taxi ride away.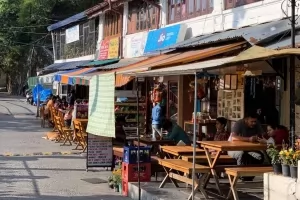 The unavoidable must-visit haunt in this area is Char Dukan (Four Shops). So popular is this legendary row of eateries that most tourists staying in Mussoorie come here at least once during their trip. Which sadly also means that evenings (around sundown) tend to get busy. Mornings and afternoons, though, are ideal for a lazy, conversation-filled meal. The food at Char Dukan eateries consists of mostly comfort snacks from fritters and noodles to momos, burgers, sandwiches, and honey-lemon-ginger tea that will warm the cockles of your heart.
If a late evening sit-down dinner is what you desire, head straight to Emily's. Rokeby Manor's in-house restaurant is open to the outside public and serves a delicious menu packed with Indian and Western classics. For afternoon though, nothing beats the inviting aromas of Landour Bakehouse. The bakery, situated on the street known as Sister's Bazaar, is another Rokeby Manor establishment. The menu here includes fresh bread, pastries, sandwiches, coffee, milkshakes, and so much more.
Momos and mountain living go hand-in-hand. The best momos in Landour are available at Domas (the restaurant attached to Domas Inn). They also have other Asian favorites such as kimbap, pork ribs, rice burgers, ramen, thupka, and sizzlers.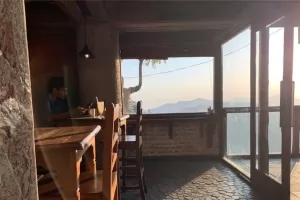 Café Ivy, next to Char Dukan, is a favorite among young tourists. Its covered patio overlooking the valley is forever in demand. The deck is one of the best places in town to view the sunset. However, the food at Café Ivy, ranging from bacon sandwiches to pasta, can vary in taste depending on how busy they are.
Klick Café at Laal Tibba (at the other end of the Landour periphery) used to be extremely busy pre-pandemic. Overlooking the Himalayas in the distance, it was an idyllic spot for a lazy afternoon bunch. Sadly, the café is no longer operational. Considering its prime location, there is a good possibility that a new eatery will come up here later.
What To Do in Landour
Like places to eat in Landour, the hillock has a fair share of activities on offer for tourists. At the top of the list is admiring the beauty of untouched nature, spectacular panoramas, and mesmerizing sunsets.