The Gothic Medieval Quarter of Barcelona is part of the larger Old Barcelona or Casc Antic district. Locally, the Gothic Medieval Quarter is called Barri Gòtic. You can easily reach the area by taking the L3 metro line to the Liceu stop. After that, it is best to rely on your feet to get you from place to place.
There are many things to see in Barri Gòtic. It is one of the best-preserved and integrated medieval cities in Europe. You can find evidence of Roman inhabitants dating from the first century AD, and many of the 3rd century AD Roman walls are extant. The best architecture in the Medieval Quarter comes from the 13th to 15th centuries.
The Barri Gothic Cathedral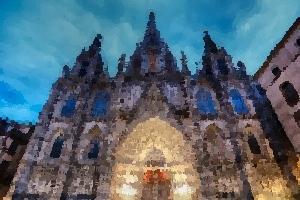 One of the Gothic medieval Quarter highlights is the La Seu Cathedral of Barcelona (Santa Eulalia Cathedral). It began construction in 1298 and is full of exquisite Gothic carvings, especially in the chorus area. Within the cathedral compound, you can also find the Casa de l'Arcadia, which houses Barcelona's historical archive, the Chapel of Santa Llúcia, and the cathedral's cloisters.A little further down the Medieval Quarter are the Palau de la Generalitat and the Casa de la Ciutat. The former is the Catalan government's headquarters, and the latter is Barcelona's City Hall. Both are open to visitors during limited weekend timings.Other highlights of the Gothic Medieval Quarter include Llibrétería, a street full of artisan shops, and the Museu d'Història de la Ciutat, a museum devoted to Barcelona's history.