La Sagrada Família, or Church of the Holy Family, is located in central Barcelona. Take the metro line 2 or 5 to the Sagrada Família stop. Admission is 11€ ($16) for adults and 9€ ($13) for students and seniors. This price does not include the lift up to the spire. Before you plan a trip to La Sagrada Família, it is best to visit the cathedral's website; not only do timings change seasonally, but access can be restricted due to mass or construction work.
La Sagrada Família is the architectural brainchild of Antoni Gaudí. He began to design the cathedral in 1882, and construction work is still going on to this day. It is an expiatory church, which means its construction costs are being covered strictly by donations. Construction is scheduled to be completed sometime before 2035.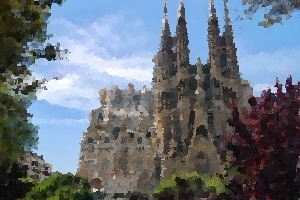 Gaudí used La Sagrada Família to demonstrate improvements to the traditional Gothic cathedral design. He kept the traditional Latin cross floor plan. Still, through the use of reinforced concrete and innovative structure, he was able to do away with what he considered a weakness of Gothic architecture: flying buttresses. Instead, created tree-like interior columns perfectly suited to vertical load-bearing.
Biggest draw to La Sagrada Família are intricately carved façades. The east-facing Nativity façade documents the birth of Christ, while the west-facing Passion façade chronicles his death. The façade at the aspe (rear) of the cathedral is dedicated to the Virgin Mary, and the yet-to-be-completed Glory façade will be at the main entrance to the cathedral and will tell the story of a man as he fits into God's creation.