Home of the Sydney Theatre Company, who perform both here and at the nearby Roslyn Packer Theatre. The company was formed in 1978 and initially worked out of numerous rented premises throughout the city, with actors such as Geoffrey Rush, Hugo Weaving, and Cate Blanchett having developed their careers here.
Walsh Bay's Wharf 4/5 was at the time a derelict space, with its ironbark timber warehouse having been built to load cargo onto ships. Its size and location made it attractive as a modern theater space, designed specifically to retain its historic integrity. In 1984 it was officially handed over to the Sydney Theatre Company. The Royal Australian Institute of Architects awarded the architectural team behind Sir John Sulman Medal's transformation for their work.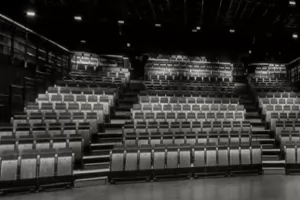 Today, it is a major arts precinct in the city, with the Sydney Dance Company, Sydney Children's Choir, Bangarra Dance Theatre, and Sydney Philharmonia Choirs among the other companies utilizing the space. The Wharf Theatre features two separate venues - Wharf 1 (339 seats) and Wharf 2 (205 seats) - together with The Theatre Bar that boasts views of Luna Park and the North Shore from its balconies. Expansive windows in the theater's foyer offer impressive views towards the Sydney Harbour Bridge, while posters detailing its history line the walls.
The Sydney Theatre Company has initiated a "Greening the Wharf" program to invest in solar energy, rainwater harvesting, and energy-efficient measures at the venue, making them leaders in environmentally responsible theater production.