They say that Egypt is om al-dunia, or 'mother of the world'. Whether it's true or not, it might be time to pay home a visit, and if all you think about when you hear "Egypt" is pyramids and pointy-bearded pharaohs, you may be selling yourself short. Don't get me wrong, I'm not knocking one of the Seven Wonders of the World, I'm just saying there's more than just majestic pyramids to be found among the sands of Egypt, especially in its capital city of Cairo. Cairo can be a peculiar place, and even the expats that have lived here for years can't quite pin it down. There's a blend of the East and the West here that mingles with an intriguing heritage rooted in ancient Christian, Islamic, and Pharonic times while entertaining surges of progressive modernism. As such, you'll find Cairo might just have a little something for everyone to behold regardless of their fancy. Don't believe me? Take these three pyramid-less marvels as an example!
The Book Fair
Are you a book nerd? Turns out so is Cairo! Who would've thought that the Middle East's largest metropolitan complex is also one of the literary capitals of the world? It may not seem like it at first glance, but just pay the city a visit during the last weeks of January to attend the Cairo International Book Fair and you'll discover a rich and thriving book culture in one of the last places you'd expect. Locally called Marid al-Kitaab, the Cairo International Book Fair is something of a social wonder. Publishers, authors, presenters and everything in between descend on the city as millions flock to the fair grounds for weeks to indulge in everything from fictional literature to political treatises. Amateur and professional writers alike showcase their latest works while the eager public soaks up every page they can get their hands on. The fair operates much like any major festival. There's food, live music, and crowds as far as the eye can see. You'll spot an odd mix of cultured literary aficionados perusing varieties of Shakespearean translations, as well as young school students taking advantage of cheaper prices on textbooks. Instead of big name musical headliners, the crowds flock in droves to see poet recitals, cultural exhibitions, and be the first to get their hands on a long anticipated new book releases. If the sight of rows of bookshelves filled to capacity and the smell of fresh literature excites you, then the Cairo International Book Fair is a nonnegotiable must. Just pack a jacket, the winter in Cairo is surprisingly stout!
Khan al-Khalili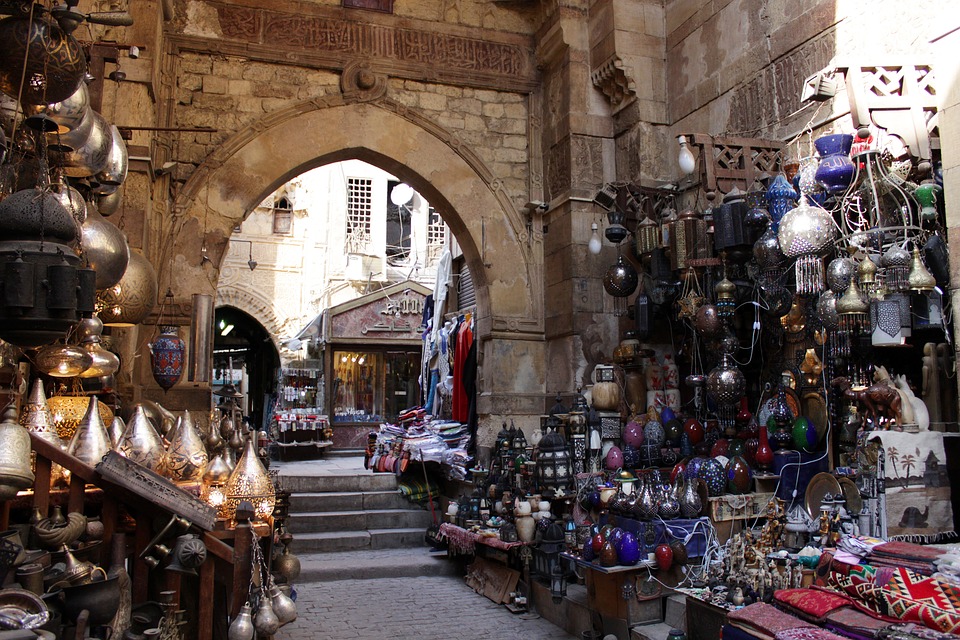 As exciting as mountains of publications can be, if you're heading to the Middle East you're probably also hoping for something a little more along the flavors inspired by watching Aladdin or reading One Thousand and One Arabian Nights. Cairo's district of Khan al-Khalili fits this hankering all too well. Khan al-Khalili is one of those peculiar places in the world that, were it not for the occasional flash of a tourist's camera, could easily make you forget what time period you're supposed to be in. Khan al-Khalili features a labyrinth of narrow cobblestone roads, ancient gates, bustling bazaars, and neighborhoods older than some countries (looking at you America!) Khan el-khalili can be quite the exciting atmosphere for those wishing to immerse the senses in a new host of experiences. The sale calls of trinket and gift vendors mixes well with the scent of roasting kabab as clouds of aromatic shisha pour from the open doors of cafes and perfume the street. At night, you might just find varieties of local music led by ouds and drums ringing through the air, and if you're lucky you'll also stumble upon a dance troupe showcasing the traditional dances of Egypt's past. Khan al-khalili showcases the majestic beauty and ingenuity of Cairo's architectural and cultural history, and the traveler wanting to experience, not just see, antiquities will certainly want to spend some time getting lost in Khan.
Azhar Park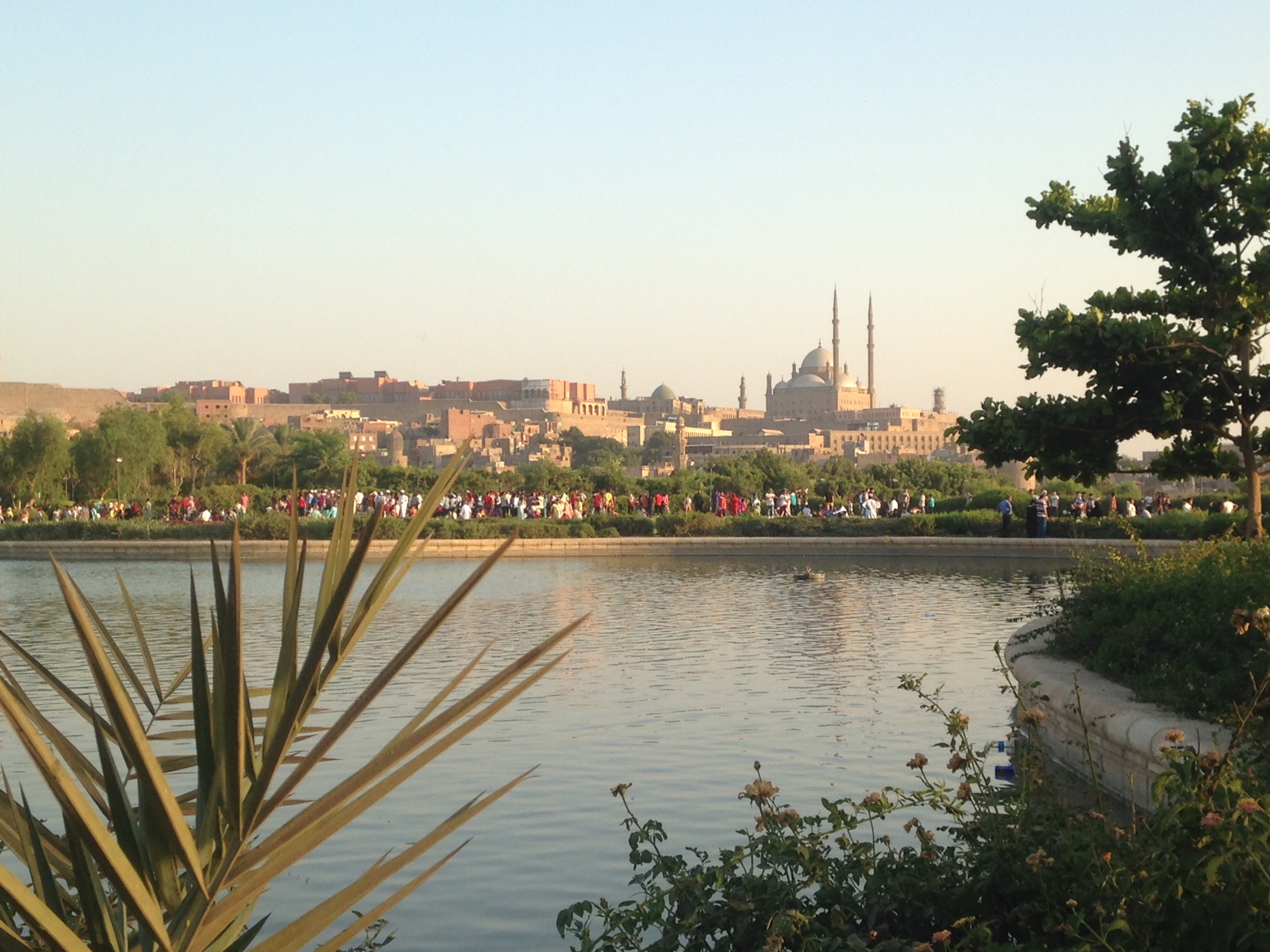 Stuff yourself into a sprawling metroplex of 20 million people with nothing but mostly sand blasted, grey high rises for as far as the eye can see, and it won't be long before you start getting the itch for something green, refreshing, and alive. As exciting as a city filled with interesting culture, history, and people is, Cairo can also definitely be an assault on the senses. The key to surviving in a big city, whether a tourist or a resident, is knowing where the oasis is. In Cairo, there are few places more refreshing than Azhar Park. Taking its name from the nearby and famous mosque and university, Azhar Park is quite literally a breath of fresh air in a city renowned for crowds and pollution. Whether you're after an afternoon picnic, or you just want to lie in a patch of grass to remind yourself that there are items of natural beauty in the world, Azhar Park can be therapeutic. Acres of rolling hills spotted with trickling streams and glistening lakes offer plenty of space to recuperate and enjoy some of the most scenic views available in Cairo. The park offers a variety of beautiful footpaths that traverse scenic gardens and even wander in the shadow of the Ayubbid Wall. Come during the weekday to enjoy a Turkish coffee in relative peace and watch the sunset. If you're really feeling adventurous, come during the feast immediately following the month of Ramadan and brave surging crowds for a mass of festivities and people you won't soon forget. As much as the Arab world, in general, seems to be at a crossroads in history, Egypt likewise remains a crossroad for various intersecting cultures, traditions, and spectacles. Cairo is a hard city to figure out, but that can very well be part of the draw. Whether you're thrilled by antiquities, or just want a nice book and a green park, Cairo has something to offer everyone. After all, she is mother of the world!