Rizal Park is a park located in the heart of Manila, the capital of the Philippines, at the northern end of Roxas Boulevard, near the Intramuros district. It overlooks Manila Bay.
Short History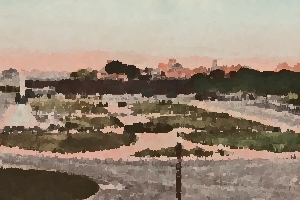 The history of the park begins in the early 1800s, during the period of Spanish colonization. While Manila's social and commercial activities were confined to Intramuros, a small area just south of the compound was cleared to prevent surprise attacks by Filipino nationalists. The park was named Bagumbayan ('new city') but since it was shaped like a small moon, it was also named Luneta.
Execution of José Rizal (1896)
Luneta was the site of historic events in the Philippines including the execution on December 30, 1896 of writer Jose Rizal, whose death would make him a hero of the Philippine revolution (the park was renamed in his honor), the declaration of Philippine independence on June 4, 1946, and the 1986 demonstrations by Corazon Aquino's supporters against the Ferdinand Marcos regime.
World Youth Day
On 15 January 1985, a mass celebrated by Pope John Paul II for World Youth Day brought together 4 to 5 million people.
Park features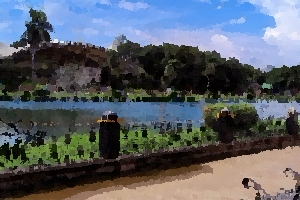 A monument with a statue of José Rizal (the work of the Swiss sculptor Richard Kissling, author of William Tell in Altdorf) is located in the park, guarded day and night by Philippine soldiers. This monument marks the zero kilometre of the Philippines.
The park also contains a small artificial lake with a miniature reconstruction of the Philippine archipelago at its centre, Chinese and Japanese gardens, the offices of the Department of Tourism, the National Museum of the Filipino People, the Philippine National Library, a pavilion with orchids and butterflies, a planetarium, a monument to the first hero of the Philippines, Lapu-Lapu, a fountain area, and a chess square.
The park is now a family recreation area for many Manila residents and tourists. All kinds of open-air concerts are regularly held here.