Guatemala Country Guide
Overview
The country of Guatemala is located in the
Central America
region. It shares its borders with the country of
Mexico
on the north and west, the Pacific Ocean on the southwest,
Belize
and the
Caribbean
Sea on the northeast, and the countries of Honduras and El Salvador on the southeast. The capital of this country is Guatemala City and has a representative democracy government.
Guatemala continues to give high regard to its natural resources. It is no wonder then why the country of Guatemala is regarded as a biodiversity hotspot. Indeed, the country is a land rich with abundant and unique ecosystems comprised of Mangrove forests, lakes, rivers, lagoons, and swamps. The Tikal National Park has been recognized as a UNESCO World Heritage Site. In fact, the very name of the country of Guatemala speaks of its rich natural treasures. According to many, the name Guatemala comes from the Maya-Toltec language which means "the land of the trees."
Guatemala consists of almost 1/3rd of the region's population and is ahead of other South American countries in the commerce and manufacturing segments. Approximately 1 million souls inhabit the capital city of Guatemala – which is incidentally also known as Guatemala. It happens to be the largest urban center in Central America.
Travelers visiting the country are sure to find a number of different archaeological sites in the town of El Petén. The cities of Chichicastenango and Santa Lucía Cotzumalguapa provide travelers a glimpse of many rituals and traditions, most of which have been practiced as far back as the Pre-Hispanic period.
Guatemala's seven (7) touristic regions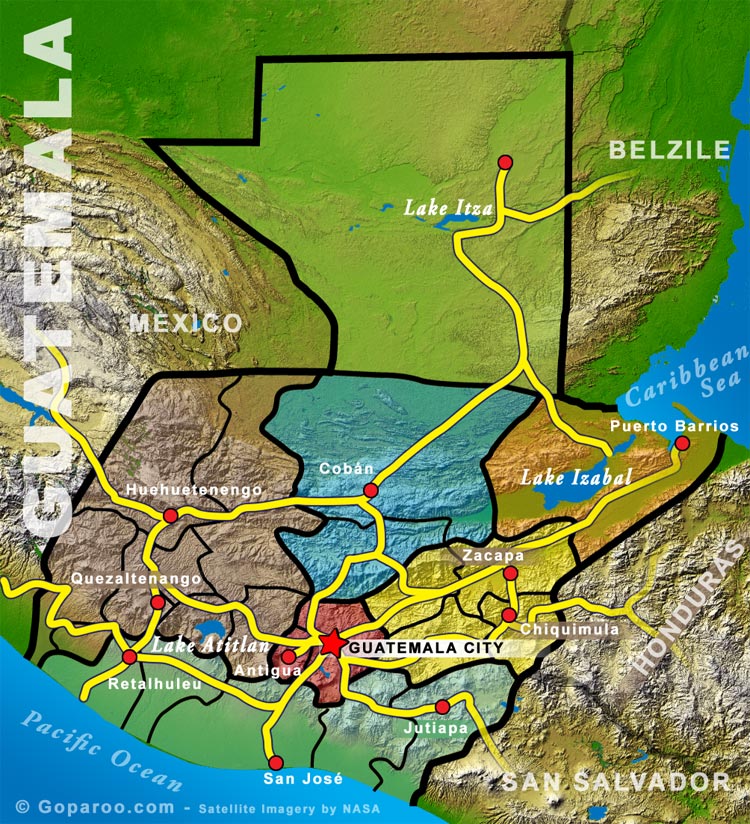 Guatemala City Region

Altiplano (Western Highlands)

Verapaces (Central Highlands)

Oriente (South-East)

Pacifico (Pacific Coast)

Izabal (Caribbean Coast)

Petén (North)
* Border divisions and roads are approximatively represented, please refer to official Guatemala divisions and road maps for more precise details.