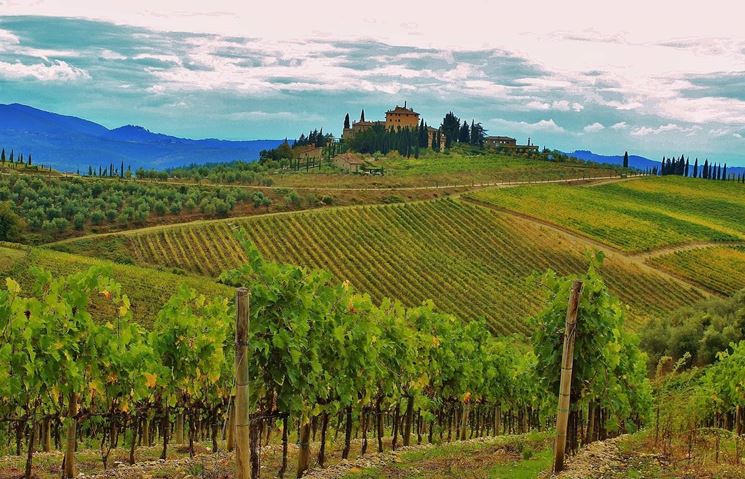 The Tuscan winding roads take you along the most spectacular sceneries Italy has to offer. It seems that every aspect of this area is in perfect balance. Untouched medieval hamlets are hidden in the undulating landscape of vineyards and tall cypress trees. See thousands of fertile soil hectares, ready to grow the Sangiovese grapes for the excellent Chianti wines.
The Chianti region and wine route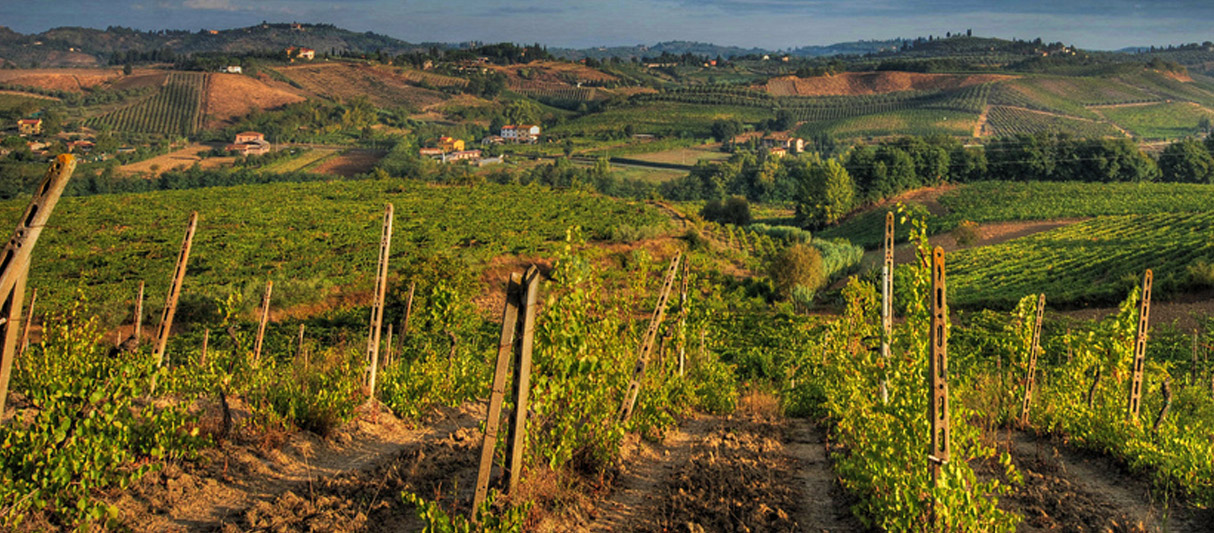 Stretching between Florence and Siena, the Chianti region is one of Italy's oldest and famous wine regions. Some of Italy's finest vintages, like the Brunello di Montalcino, Chianti Classico, and Nobile di Montepulciano are grown in the renowned Chianti vineyards.
The Chianti Classico road has always existed and is considered one of Italy's most beautiful panoramic drives. This route, the SR222, is 100 km long and runs directly south from Florence to Siena, passes five small Chianti towns and the most instantly recognizable landscapes in the world.

Greve in Chianti
Greve, one of Chianti's main villages and the first town to come across Florence, oozes history. From the monastery in the old quarter to its market, where since centuries, traders have been selling their wares.
Learn more about Greve in Chianti >
Panzano in Chianti
Panzano, settled by the Etruscans, is home to charming cobblestone streets and an 11th-century castle built in the town's highest part.
Learn more about Panzano in Chianti >
Castellina in Chianti
Sitting on a high ridge, Castellina is believed to be built on the ruins of a Roman settlement. Despite multiple attacks, Castellina's Rocca castle is still standing tall and is the evidence this town was once the strategic headquarters between Florence and Siena.
Learn more about Castellina in Chianti >
Radda in Chianti
Radda, an ancient market town, has been key to Chianti's wealth. This small charming hilltop village, located 600 meters above sea level, is surrounded by beautiful forests.
Learn more about Radda in Chianti >
Gaiole in Chianti
Gaiole is probably the most idyllic town of the five, known for its beautiful landscapes dotted with numerous picturesque castles and parish churches.
Learn more about Gaiole in Chianti >
San Gimignano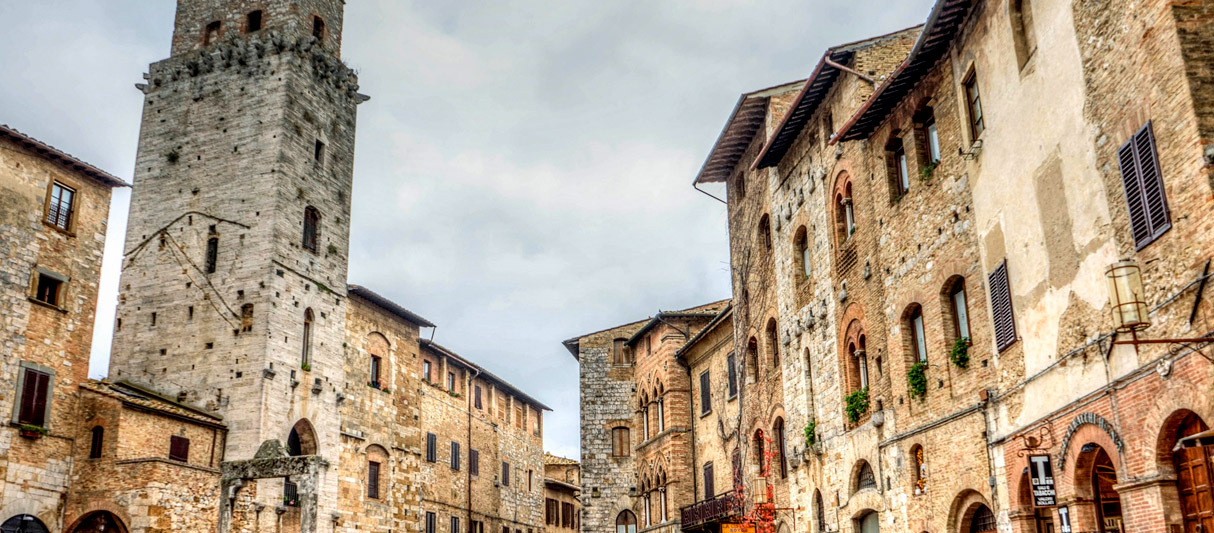 San Gimignano is a small medieval town dating back to the eighth century. It is famed for its amazing skyline, which is dominated by 14 medieval towers. Climb the "Torre Grossa", San Gimignano's highest tower, from where you have a fantastic panorama of the village and its surrounding this town and wander through the beautifully preserved narrow cobblestone streets. Don't miss out on the Museum San Gimignano 1300. Here you can see a full-scale San Gimignano model as it was 700 years ago, a reconstruction of medieval street life, and interesting details about the architectural styles of that time.
Learn more about medieval San Gimignano >
Volterra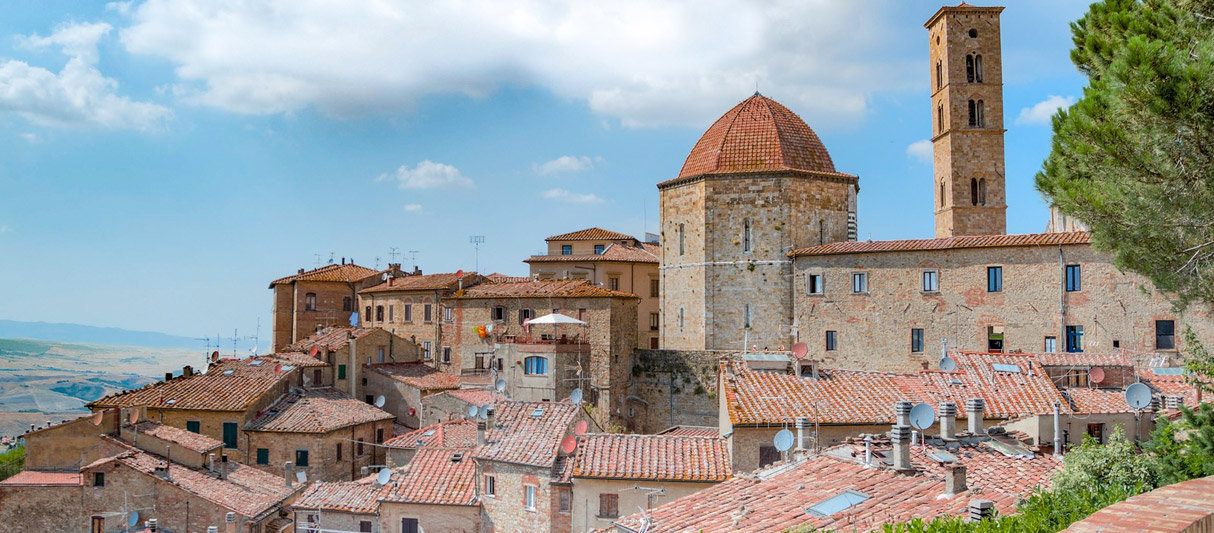 Unlike other famous Tuscan towns, Volterra feels real and vibrant. Volterra was a vital trading center and had a tradition of craftsmanship that attracted various artists in the past.
Learn more about Volterra >
Siena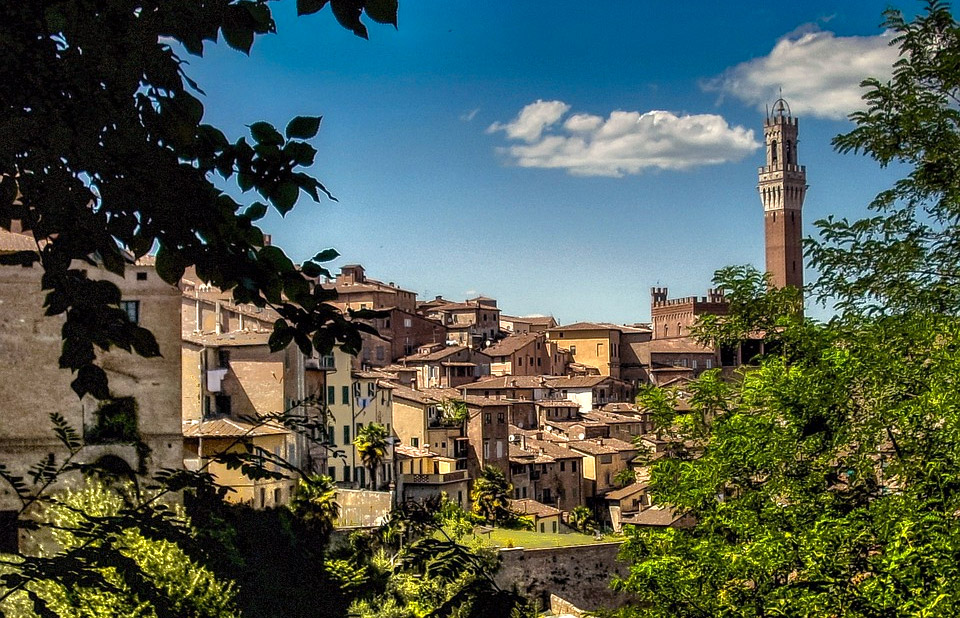 Siena is one of the most fascinating places in Tuscany thanks to its particularly alluring position and lovely environs. Its historical center preserves its medieval character to a remarkable degree that it seems you step back into the Middle Ages. When you walk around the town, you'll see many of its stunning works of art and architecture from that period. The Cathedral and Palazzo Pubblico are beautiful Gothic buildings that are worth a visit. The Campo is one of Italy's most remarkable squares, known for its medieval horse racing event "ll Palio". Every July attracts many people to witness this great tradition. As the town is built on three hills, it offers a stunning panorama of the Chianti area's densely-cultivated hills.
Learn more about Siena >
Touring the Tuscan countryside provides a chance to visit beautiful medieval hilltop towns, sample Italy's top red wines, extra-virgin olive oil, and pecorino cheese produced in this region. Stay at a peaceful agriturismo, and dine at authentic trattorias.
This is Tuscany at its best!