The Lake District of Argentina is in Patagonia's northernmost point and has some of the most spectacular scenery with snow-capped mountains and beautiful clear lakes. This area truly gets the traveler back to the basics of nature.

Some of the wonderful scenery and activities that travelers can participate in along Argentina's beautiful Lake District include:

• The Parque Nacional Nahuel Huapi is one of the most popular National Parks in Argentina and is perfect for hikers in the summer and skiers in the wintertime to see some of the most remarkable surroundings.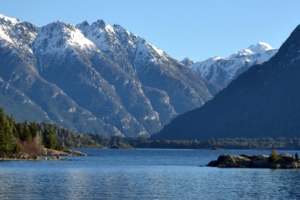 A scenic view in the Parque Nacional Nahuel Huapi

• The Arrayán is located in the Nacional Los Arrayanes Parque with gorgeous flora in the summertime and a great place for hikers who enjoy some challenging peaks such as Volcano Lanin.

• The beautiful city of Bariloche is quite picturesque and is located at Nahuel Lake and offers some great skiing for the outdoor adventurers and some great nightlife for those more inclined to the indoor activities.

• Villa la Angostura is an amazing gem in this district, and travelers who love beaches, forests, and mountains will find this to be the best location of all – plus one great advantage is the wonderful food!

• A unique tree sculpture park lies in the Bosque Tallado. It is particularly popular with eco-friendly travelers seeking peace and tranquility in the area of Mount Piltriquitrȯn area of the Lake District.

Travelers desiring to have an amazing get-away need to spend some time in the Lake District of Argentina.