Located in Haymarket, in the southern part of Sydney's CBD, Chinatown is the heart of Asian culture in the city. It was originally established in The Rocks area of Sydney in the late 19th century, before moving to near Market Street in Darling Harbour. It gradually moved to its current location in the 1920s, centered around bustling Dixon Street.
Sydney's Chinatown is packed full of restaurants serving authentic dishes, as well as bakeries and sweet shops where you can grab a snack on the go. There's also a range of herbal stores and market shops selling Chinese goods and souvenirs, including brightly colored kites and green teas. A large complex called Market City has been built on the site of the old produce markets, with modern shopping boutiques, Asian restaurants, and a large indoor entertainment complex. The historic Paddy's Markets are also found here, with everything from clothes to food, crafts and plants on sale.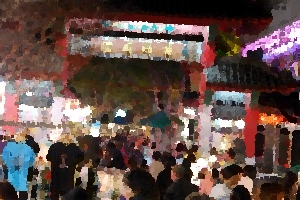 Chinatown features several cultural icons that have become popular photographic locations in the city. Dixon Street is marked by a Paifang arch at each end, while a sculpture of a dead tree trunk titled "Golden Water Mouth" by artist Lin Li stands at the corner of George and Hay Streets. It is believed to bring good fortune to the Chinese community living and working here.
In addition to Sydney's main Chinatown, there are a few satellite communities that have flourished in recent years. Parramatta, Cabramatta, and Burwood are all renowned for their Asian restaurants, as are pockets in Ashfield, Eastwood, Campsie and Flemington.