Rome Climate & When To Go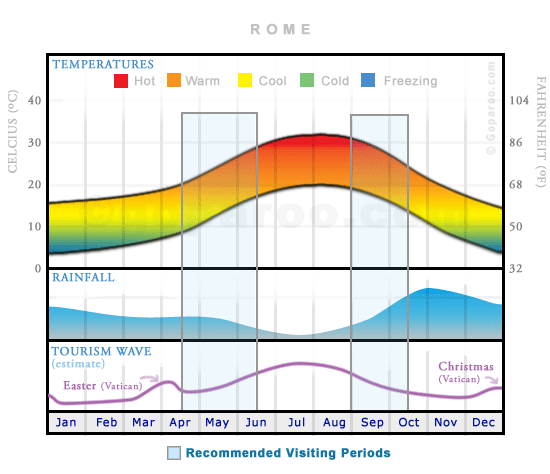 In the summer, temperatures seldom go under 86°F (30°C) at mid-day. The summer heat is also usually combined with high humidity which makes visiting Rome harder.
Best Time to Visit Rome
The nicest time to travel to Rome are in April, May, September and beginning of October. These are beautiful months with about perfect weather. It could extend to part of June if heat waves did not come yet.
At the end of October and November is the rain season, not only small rain from time to time but pouring and persistent rain.
In December, although it is colder (but rarely snows), it is a nice month to get a feel of the Roman Christmas ambiance. Winter months can also be a good time because the air is fresh with a nice blue sky. No need for a winter coat, a warm sweater usually does the trick.
There are also some tourism/pilgrimage increase at the Vatican at Christmas and Easter.