Amassing in excess of 20 million tourists each year, Venice is not only one of the world's most widely visited cities, it's also one of the most beautiful. Whether you're taking a romantic boat trip along the stunning waterways, staying in one of many luxurious hotels, or taking in views of the truly awe-inspiring infrastructure and tourist attractions such as in St Mark's Square, you're guaranteed to have your breath taken away as you explore the city proudly known as La Serenissima, or 'the most serene'. However, recent years have seen over-tourism becoming a huge issue in Venice, as the number of tourists visiting the city has long outweighed the number of permanent residents. Because of this, there is now a clear need for sustainability to take center stage in Venice. Otherwise, the increasingly negative impact on one of Italy's UNESCO World Heritage Sites will become ever more apparent as the years go by.
The challenges of over-tourism in Venice
With its historic buildings and picturesque canals, it's no wonder that Venice is one of the most cherished cities in the world. Built on more than 100 small islands, it's a city that undoubtedly deserves a place on your bucket list. However, a large influx in short-term visitors has gradually taken its toll on this once-thriving location, with fewer and fewer permanent residents now calling the city home. To put things into perspective, the number of permanent residents now stands at just 50,000 people – in stark contrast to the city's population of over 120,000 less than 30 years previous. High water surrounding Venice has already posed a threat for a number of years, with flooding in the city an all-too-regular occurrence. The issue of over-tourism has only made matters worse, with overcrowded canals and walkways along with excessive queues to visitor attractions placing great strain on the city's resources. Falling costs of aviation and an increase in the popularity of cruises are likely to be the reasons why this famous lagoon city has fallen victim to over-tourism in the last few decades. Considering these cruise ships often bring in more than 4,000 tourists, this places emphasis on just how many people can be in the city at any one time, which inevitably stretches Venice to its limits.
What steps are being taken to achieve sustainable tourism in Venice?
In recent years, the Italian government has recognized the need for drastic action to be taken in order to preserve Venice for local residents and promote sustainable tourism within the city. But, the huge influx of day-trippers has made this a task that is far easier said than done, with only one-fifth of tourists choosing to spend the night. In an effort to combat this, a ban on cruise ships of 100,000 tonnes or more entering the Grand Canal was proposed by the Italian government in 2017, a move that was welcomed by local residents who have regularly protested about high tourist numbers in Venice. Although it's expected to take around four years for the new route and port at nearby industrial town Marghera to be ready, it's a step in the right direction as Venice aims to preserve its culture and identity. In addition to the cruise ship ban, the council of Venice introduced a controversial new visitor's tax in May 2019 as part of the annual budget. This was brought into practice to help keep the city as clean as possible, as well as to help with the high cost of maintaining Venice's public buildings. With prices ranging between €3 and €10 depending on the amount of traffic entering the city, it remains to be seen whether this will have an impact on tourist numbers. However, a fine of up to €450 should hopefully deter anyone from flouting the new regulations.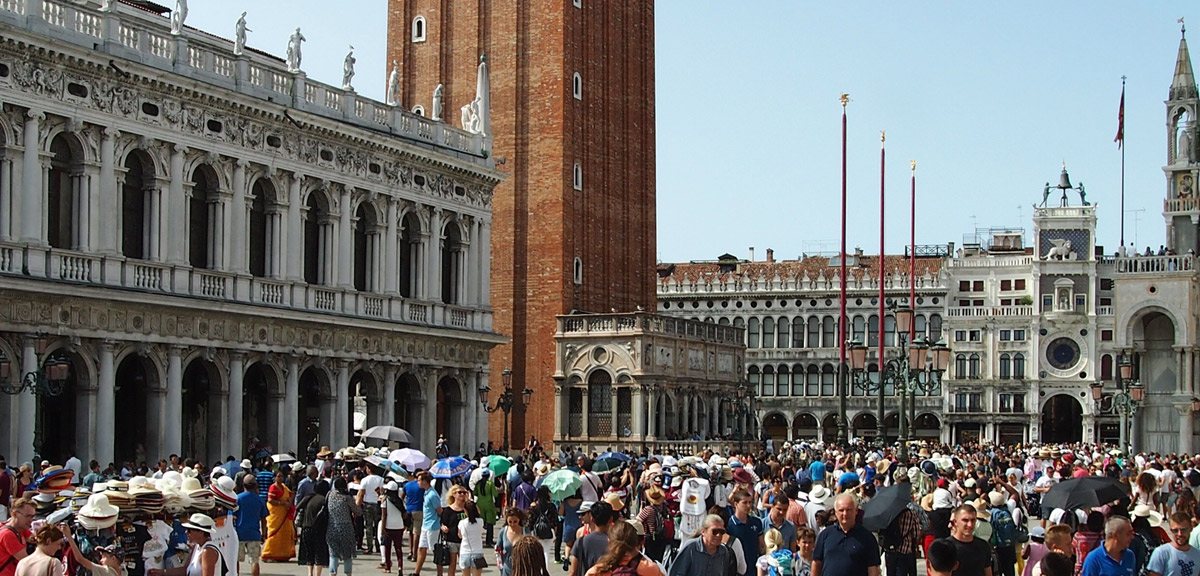 How to travel sustainably in Venice
Because of the increasingly negative impact of tourism in Venice, it is now abundantly clear that tourists themselves need to play their part in preserving this wonderful city so that future generations can enjoy it just as they have. The Venetian council and the Italian government have already begun to take the appropriate steps to achieve sustainable travel in Venice. But, there are also things that tourists can do too:
Visit in off-peak season and stay overnight
The summer months, in particular, are when the negative impact of tourism becomes increasingly apparent in Venice – with substantial crowds flocking to the city's most beloved tourist attractions day after day. Visiting the city throughout the winter months means you can avoid excessive crowds and enjoy more reasonable hotel rates – all while contributing positively to the economy of Venice by supporting local businesses including tour companies, shops, and restaurants.
Respect the local people, places, and traditions
Regardless of the time of year you visit Venice, it is important to take care of public spaces. Bridges, monuments, walls, and church steps should all be treated with respect and not used as somewhere to eat or use as a rest area. Fines have been distributed for anyone who is found to be in breach of the city's rules. So, always do your utmost to stay on the right side of the law. Showing respect to the local residents certainly won't go unnoticed. So, in order to minimize your impact on the community and environment, be sure to dispose of any rubbish responsibly, recycle where possible, and keep noise levels to a minimum – particularly at night.
Final Thoughts
To conclude, it would be appropriate to suggest that action needs to be taken sooner rather than later when it comes to the sustainability of travel in Venice. Otherwise, the city's identity and culture could begin to decline, and the quality of life of local people could be negatively impacted even more so in the years to come. Therefore, it's safe to say that there is still a long way to go before the issue of over-tourism in Venice can be fully eradicated. But, a combined effort from the authorities and tourists themselves is undoubtedly the way forward.
See also UNESCO'S report about the protection of Venice.