You can't quite fully experience the essence of Italy without traveling to and visiting the unforgettably exhilarating, unique, and breathtaking city of Venice (Venezia). Venice, the capital of the region as well as the province of Veneto, in northeastern Italy, is the beautiful "Queen of the Adriatic," with a population of close to 262,000.
As for the location of Venice, it actually stretches across a group of different islands in the marshy, shallow, saltwater Venetian Lagoon alongside the Adriatic Sea, between the mouths of the Piave River in the north, and the Po River, to the south.
Venetian History
How old is Venice
Interestingly, there are no historical records on the true origins of Venice, although legend says Roman refugees escaping from the Goths founded it back in 422. Learn more about how Venice was built.
A commercial power of the Renaissance
Known as the Most Serene Republic of Venice from the eighth century until the 18th century, in 1797, Venice developed into an important and substantial city-state, especially during the ninth and 12th centuries. It eventually became particularly known as a large and strong sea power (famous for its navy), an imperial power, a Crusades' staging area, and a major center for trade and commerce, and art, literature, and culture during the Renaissance.
During the 1700s, in particular, Venice became one of the most advanced and refined cities in all of Europe. That particular century saw and enjoyed many fascinating developments and advances that fell into decline after Napoleon Bonaparte conquered Venice on May 12, 1797. Venice officially became a part of Italy in 1866, after the Seven Weeks War.
Learn more about the history of Venice.
The city of Venice today
Nowadays, the Italian wonder is probably most known for its canals flowing through the city, as it's built on a group of 118 islands formed by 150 canals and connected by 400 bridges in the Venetian Lagoon. Nobody drives anything besides a boat in Venice; transportation is strictly on water or foot. It remains the largest fully functioning, self-sustaining urban automobile-free urban center in Europe.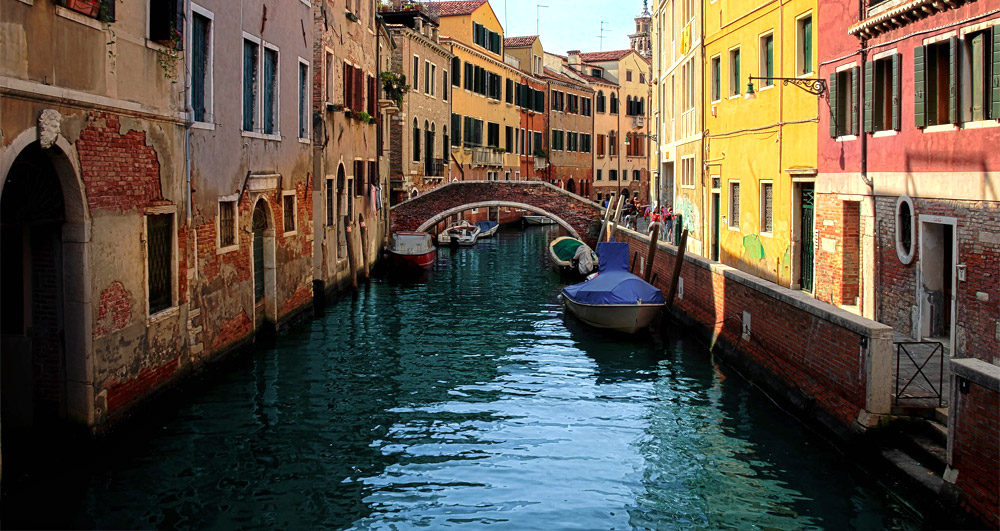 A typical Venice canal.

Locals traverse the canals via motorized water buses and private boats for everyday use. In contrast, gondolas are used for tourists and special occasions.
A typical Venice canal is usually more relaxing to pass by than the life-buzzing Grand Canal. It also offers more of the romantic atmosphere that couples are often looking for.


City and canals preservation and maintenance
As Venice is in fact a city on water. Many have indeed wondered about its building foundations, as well as the question of whether, in fact, Venice is sinking, or if the water level is rising, or both.
In fact, it has long been disputed whether Venice is sinking and what to do about it. The buildings are built on intact wood piles interspersed with sand and clay layers (wood does not decay underwater). However, with the use of artesian wells in the 20th century, Venice started to sink, leading to these wells' ban in the 1960s.
However, Venice remains threatened by flood tides, and as a result, many residents had to move to higher levels. Many experts have recommended "lifting" Venice above sea level through pumping water into the underground soil, which would allegedly be a more permanent solution.
It is also well known that Venice faces problems of overtourism and sustainable travel. Because of the large number of tourists in the city, especially in high season, Venice has become a victim of Disneyfication, where everything becomes about sightseeing but drained from its original people and cultural Venetian feel. So if you do want to plan a trip there that is somehow more culturally representative, it is probably better to go into the winter months.... and please avoid cruises with Venice as a destination.
Landmark attractions
Still, Venice offers a wealth of tourist attractions and main sights to see during your stay in the enchanting city on water, besides the surrounding beauty of the islands and the Venetian Lagoon itself. The large Piazza San Marco and Campo San Polo are definitely worthwhile visiting. You may also like to check out the city's many palaces and palazzi, including Doge's Palace, Palazzo Grassi, the Peggy Guggenheim Collection, and Palazzo Labia.
Many ancient cities in Europe boast architecturally stunning churches, and Venice is no exception. Consider visiting the Basilica di San Marco (St. Mark's Basilica) and the Basilica di Santa Maria Della Salute, in particular, although there are many other churches to set your sights upon.
Other Venetian tourist attractions you may be interested in include Accademia, The Arsenal, La Fenice opera house, and famous bridges like the Rialto Bridge, the Bridge of Sighs, and the Scalzi Bridge.
You can also purchase a Venice card, the "Venezia Unica Card", to get a deal and access to many of the cities attractions.

See also Venice Attractions >
Venice Weather and climate

Venice can get pretty hot in the summer but has the advantage of often getting a nice breeze from the Adriatic Sea. Temperatures rarely freeze in winter but can get very humid and mushy cold. So from a climate, weather, and perspective, the best months to visit would be mid-March to May and from September to mid-November. If you wish to avoid tourist crowds as well, the winter months in Venice could still leave you enchanted even if you need to wear a coat...