The Spanish Steps is another very popular attraction that is located in the heart ("Centro Historico") of Rome. It is also one of Rome's favourite romantic spot and one of the most popular's city landmark.

The Spanish Steps has 138 steps that connects the Piazza di Spagna (or Spanish Square), one of the most elegant square, at the bottom to the Franciscan Trinità dei Monti church at a higher level. These nice and elegant steps were made by Francesco de Sanctis between 1723 and 1726. The Steps were built to create a nice path between the church on top of the hill and the Spanish embassy located on the Piazza below.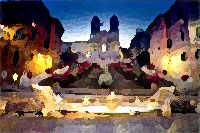 Spanish Steps with Flowers
The vibrant and stylish Piazza di Spagna is surrounded with 18th century buildings. Colourful flowers also gives the Spanish Steps an enhanced visitor experience.
Tourists and visitors are welcomed to use and walk these stairs but they are no a good place to sit down, relax and even less picnic on. People usually enjoy going through the steps and appreciate the shops and restaurants in the Spanish Square area. The steps are also at a walking distance from the
Trevi Fountain
and the
Piazza Navona.